Believe in WE,


and let's work together to help you be well through counseling.
At Certus, we use the words "counseling" and "therapy" interchangeably, so it's really up to you what you want to call it. Whatever term you prefer, know that our therapists are here to help you achieve the right outcome.
Counseling/therapy may be used in conjunction with other courses of treatment your medical care provider suggests as part of your overall care plan.
Whether you're facing depression, anxiety, PTSD brought on by physical or sexual abuse, an eating disorder, bipolar disorder, or you and your partner are having difficulties, our therapists are experienced professionals in helping you achieve the right outcomes.
Note that we welcome patients as young as 13. Contact us to learn more.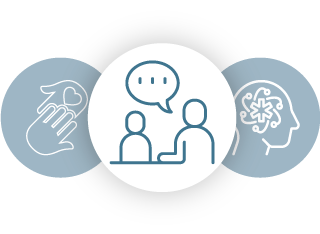 Sometimes you just need to talk to someone.
We're great at listening!
Contact us to schedule an appointment with one of our therapists.
Let's Move Forward Together